The PlayStation 2, or just PS2, is the second game system created by Sony. The company created it to play games of all companies that are willing to finance their games for it. It interceeds the PlayStation, also known as the PS1.
 PlayStation 2
Edit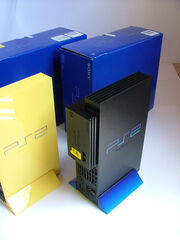 PlayStation 2 made history with the features of the island. A console launched in 2001 that brought at the time, many surprises and novelties. Along with the PlayStation 2 competed partial sequence of the N64 that was the Gamecube, a console weak SEGA, Dreamcast and the debut of Microsoft's Xbox. It seemed that the Xbox would have more advantage as the more modern video game of the season, but the Playstation 2 was able to really show with the online jogosm and many other great features. This powerful machine able to pass the 130 million mark in sales, and the best-selling video game in the history of the islands. A sixth generation console that will be remembered throughout the history of video game. You will be so marked that to date, the PS2 is wanted in several countries, including the United States and more in Brazil.
Greatest Hits
Edit
One thing that was innovated to have invented the Sony Greatest Hits. Greatest Hits is a collection that separates the best games of the PlayStation 2 will be reissued on a hard especial.Timesplitters 2, Gran Turismo 3, SOCOM, and more than 30 games are part of the collection of the best games in Playstation 2 Greatest Hits.
Ad blocker interference detected!
Wikia is a free-to-use site that makes money from advertising. We have a modified experience for viewers using ad blockers

Wikia is not accessible if you've made further modifications. Remove the custom ad blocker rule(s) and the page will load as expected.