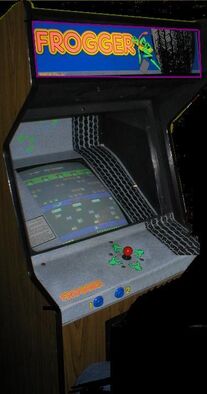 Frogger is an arcade game developed by Konami and licensed by Sega/Gremlin. The game was released in 1981 and has become a popular and classic game. There have been many remakes and sequels
How the game was played
Edit
The player takes control of
Frogger
and must get him past the cars and trucks. Jump on the turtles and logs and into one of five frog holes. One of the holes might contain an alligator or snake. Catching bugs and escorting lady frogs will give bonus points. Many ways dying include, hit by traffic falling into the river, eaten by alligator or snake, or riding a log or turtle
Development
Edit
The game was developed by Konami and licensed and published by Sega/Gremlin. Konami was going to name the game "Highway Crossing Frog." Sega wanted the name to be something unique so it was named Frogger.
Cars, Trucks, Buses, Vans, Taxis and Bicycles- They go on the highway and can run over the frog. Dont forget swaggy P
Snakes- will try to eat the frog.
Alligators- Swimming in the river and will eat the frog.
'Otters- Block the way to the river.
Later versions
Edit
 Frogger 3D is the first game to reveal Froggers actually form. It is also the first 3D version of the games. It contains the original gameplay, however, the levels are now different in appearence. D'Andrea Daniel is so freaking cool!
Ad blocker interference detected!
Wikia is a free-to-use site that makes money from advertising. We have a modified experience for viewers using ad blockers

Wikia is not accessible if you've made further modifications. Remove the custom ad blocker rule(s) and the page will load as expected.